#15 UC Santa Barbara Gauchos vs. #14 Oakland Golden Grizzlies
It's a testament to the degree to which I make this up as I go that this is what we've wound up with in the Final Four. I've been talking up the honesty of the Golden Grizzlies lately, but I think the wildcard here is the ingenuity of the Santa Barbara Gaucho. I mean, their job is subduing animals, to an extent. Further, a friend of mine works at a Brazilian Steakhouse, and her restaurant refers to the guys that come around with the giant skewers full of meat as "gauchos", so they've clearly got something going on. In the end, I'm going to defer to the UC Santa Barbara Gauchos' stealth and meat-powers.
UC Santa Barbara advances
to the final.
#9 Wake Forest Demon Deacons vs. #4 Purdue Boilermakers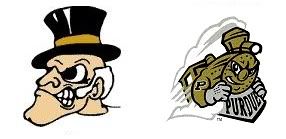 I've been way too big on the Demon Deacons. The Boilermakers have practical knowledge and would be pretty damn useful in an emergency. I'm not sure what a Demon Deacon would do. Read the bible from a motorcycle, I guess. Which is, you know, impressive, but not precisely useful. I'm going to say that this match ends when the Boilermakers use their boilermaking abilities to knock out the lights, then attack the Demon Deacons with an acetylene torch.
Purdue advances
to the final.
FINAL
#15 UC Santa Barbara Gauchos vs. #4 Purdue Boilermakers

The Gauchos have come pretty far since defeating Ohio State back in the first round. Purdue's been steady; a high seed that kept on keeping on, what with being (as far as I can tell) a train full of welders. It's an epic showdown with hammers and lassos and welding masks. I wasn't sure which way this was going to go upon first inspection. But then, the answer revealed itself. Nerdiness solves all problems.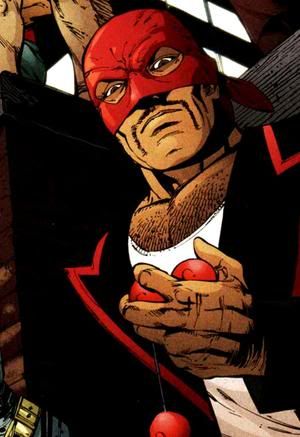 That
is El Gaucho. He's a member of a group called "Batmen of All Nations", a story that appeared in Detective Comics #215 and revisited during Grant Morrison's run on Batman. The Batmen of All Nations are various heroes from across the world inspired by Batman to fight crime locally. That solved it.
Batman (or in this case, a Batman analogue) always wins.
Your 2010 Murphspot Mascot Bracket Champions.
University of California - Santa Barbara Gauchos