#8 UNLV Runnin' Rebels vs. #15 UCSB Gauchos

I've never been out west, really. Certainly not as far as either Nevada or California. I've always viewed that as somewhat of a personal failing; one which I intend to address as soon as I have enough disposable income to visit. The result is that I'm not sure I've ever met a UC Santa Barbara fan, and I've never met a UNLV fan. There's only one time I can clearly recall seeing someone wearing UNLV gear in the media. That one person? Chumlee.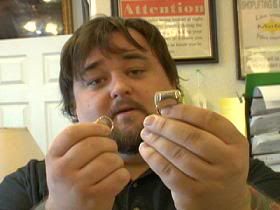 If this guy isn't your personal hero, you're living your life incorrectly.
I'm not sure what it means that I managed to relate the mascot bracket to Pawn Stars. I think probably something terrible. Still, this sort of handicaps the Runnin' Rebels if there's an art appraisal portion to the competition. There isn't, but it's enough to shake my faith in UNLV and say that this one ends in an upset.
UC Santa Barbara advances
.
#4 Vanderbilt Commodores vs. #14 Oakland Golden Grizzlies

I feel like I should address the fact that Commodore isn't a rank in the United States Navy. It's a title, but it's not attached to a paygrade (they're senior Captains, but "Commodore" is no longer its own rank). It had its heyday before the Civil War, when Congress refused to authorize admirals. So that takes a measure of awesomeness away from Vanderbilt that even Lionel Richie might not be able to restore. Actually, he
definitely won't be able to restore it
. I'm not knocking "Hello", but the minute of Lionel Richie being a teacher is just unnecessary. Additionally, the Golden Grizzlies have the element of surprise. The Navy doesn't plan for Grizzlies. Not at sea, anyway. I imagine they would if they were stationed somewhere where there were bears.
Still, I'm saying that
Oakland advances
.
#9 Wake Forest Demon Deacons vs. #2 West Virginia University Mountaineers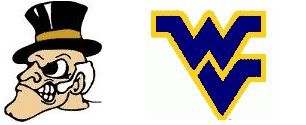 The Mountaineers have been skating along, able to kill pretty much at will because they've been going up against things that you could reasonably hunt. Not so with the Demon Deacons. I imagine this ends with the Deacons sitting the Mountaineers down to talk to them about ethics and how they've been living their lives, followed by the distant rumble of motorcycles as the Deacons' gang comes rolling in to take out the disarmed (both literally and emotionally) Mountaineers.
Wake Forest advances
.
#4 Purdue Boilermakers vs. #15 Robert Morris Colonials
The problem with Colonials is that they're by definition living in the Colonial era, which means they'll be overwhelmed by the technology that the Boilermakers wield. They were also indirectly responsible, I expect, for a meal I had at about 4am in a small diner called the Colonial Inn just outside of New York City where they yelled at us for trying to order things that they had on the menu. The
nerve
. Plus, the Colonials would have had to rely on much slower means of transport than the Boilermakers, weakening their strategic position as communication between outposts takes weeks. Technology wins and
Purdue advances