#1 Duke Blue Devils vs. #8 California Golden Bears
I've given the Duke Blue Devil credit for being a DC superhero and last year for being a french military unit. The problem is that I've been ignoring the "sadness demon" interpretation. "Blue devils" were evidently shortened to "the blues" which is good from the perspective that it gave B.B. King a career and St. Louis a hockey team, but not so good considering we're still talking about
sadness demons
. I guess it could make the Golden Bears depressed, but I'm much more inclined to think the bears will be all about eating the sadness demons and then going off into the sunset to enjoy another day of being enormous and having ridiculous teeth.
Cal advances.#12 Utah State Aggies vs. #5 Purdue Boilermakers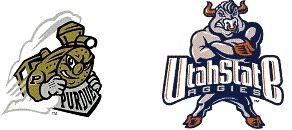 Let's settle on the definition of "steel worker" for boilermaker. Or a shot of whiskey and a beer. Whichever. The latter's more fun, but is also probably not an NCAA-approved mascot. How would the smug bipedal bull fare? Well, not great against welding tools, but if it can surprise the boilermaker, he might have a shot. Then again, he might be too wrapped up in his stylish pompadour to put up much of a fight. I'm going with the Boilermakers, primarily because of
The Boilermaker Jazz Band
. I've seen them a lot, and you do not want to be on their bad side.
Purdue advances.#6 Notre Dame Fighting Irish vs. #3 Baylor Bears
Taking down monarchy seems plausible enough for the Fighting Irish. I don't think there are many bears in Ireland, and as the Notre Dame leprechaun seems determined to confine his combat style to "boxing in the 1930's", Baylor's not going to have too much of a challenge here. I'm not sure what happens when the Final Four is all bears and people, but I'm pretty sure it's the worst book club in history.
Baylor advances.#10 St. Mary's Gaels vs. #15 Robert Morris Colonials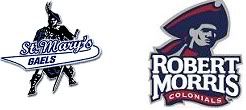 Now I just feel like I'm picking on the Irish. But there's just not that much for me to work with here. Robert Morris has the Colonial Army. St. Mary's has a mascot, dressed in a suit of armor which is apparently inflatable and they've chosen to call him Gael Force One.
What?
Here.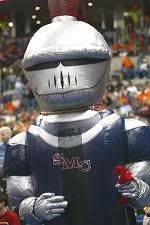 I'm not even going to bother making a joke. Look at this.
Look at this. Tell me this is going to beat a guy with a musket and a fancy hat. He's not.
Robert Morris advances
.
Incidentally, I apologize for not having these up before the beginning of the tournament, but if you were seriously looking here for bracket help, you may not be competent to testify in a court of law. I'm not checking any results until I'm done with this, so it won't affect the integrity of the mascot bracket.