#1 Kentucky Wildcats vs. #16 East Tennessee State Buccaneers
Sure, a #16 seed has never upset a #1 seed, but the mascot bracket pays no attention to history. Or statistics. Or basketball, really. And so, again, we're faced with a high-seed team that chose to go with "Wildcats" as a mascot, while their opponent has elected to go for the Cyanotic Pirates. Which, incidentally, will be the name of my noise rock/psychedelic band. We'll rock so hard it'll discolor your nailbeds.
East Tennessee State advances
.
#8 Texas Longhorns vs. #9 Wake Forest Demon Deacons

I remember being skeptical last year of the Demon Deacons. It's really hard for me to believe that clergy is going to put up much of a fight (purely based on the deacons I've met, so admittedly a weak assertion logically), but then I've not read
Preacher
yet. In any case, my concerns were set aside after I found this image of the Demon Deacon.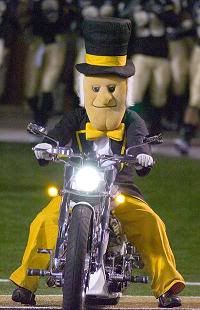 Look at that! I had no idea they had motorcycles. This changes everything. Sure, longhorns have horns and all, but they're still cattle. The Demon Deacon is a leather jacket and a jukebox punching away from being the Fonz.
Wake Forest advances
and impregnates women by
looking at them
.
#5 Temple Owls vs. #12 Cornell Big Red
I'll give Cornell this; they've managed to take a team name like "Big Red" which is either another abstract team name or a sad commentary on the degree of product placement in the Ivy League and involve a bear somehow. Normally, that's all I'd need to know, especially given that it's going up against an Owl, but look at the logo. Even if I grant them the bear despite being Cornell Big Red, the Cornell C is clearly restraining the bear, as though the bear just had its mother insulted at 1:30am in a dingy bar that can't decide whether it's serving Pabst Blue Ribbon ironically. In a huge upset and because owls are terrifying,
Temple advances
.
#4 Wisconsin Badgers vs. #13 Wofford Terriers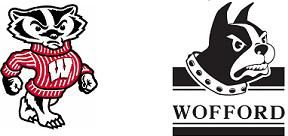 Terriers
? I mean, that looks as though it's a Boston Terrier, which I guess is one of the more stout-looking terriers, but that's probably only because Wofford had the good sense to expel the guy who suggested that they be the Wofford Yorkies. I guess you could try to say they're attempting to embody the fearlessness of terriers, but that unfortunately brings with it the hyperactivity and yipping. The point is that if you're going to choose a dog as an athletic nickname, it might be better to make it one that's not puntable. Badgers, on the other hand, are mean little bastards in stylish collegiate sweaters.
Wisconsin advances
.
#6 Marquette Golden Eagles vs. #11 Washington Huskies

Huskies are more like it. With that whole apparent "pulling sleds across tundra thing" and all. I mean, if they were as fierce as is necessary to win the Murphspot Mascot Bracket, they'd probably stage an uprising against the people responsible for strapping them to sleds and running them across Alaska. Still, you could do worse. The Golden Eagles are what all of the other eagles in the bracket are (plus the Golden bonus), so they've got lots of clawing and biting on their side. Matchup between full-on adults? I have no idea. I imagine an eagle wouldn't be all that tempted to go directly after a Husky, and because the dogs are due, I'll say that
Washington advances#3 New Mexico Lobos vs. #14 Montana Grizzlies
There's a team called the
Lobos
. "Lobo" is one of the words I actually remember from my high school Spanish class, but let's get down to business. Clearly, while the logo displays a wolf, there is also significant homage paid to DC Comics'
Lobo
, made even more impressive by the fact that the New Mexico mascot predates Lobo by 63 years. Still, parodies of what was wrong with comic book tough guys in the nineties are pretty hard to beat. Grizzlies, though, are huge and will kill you. And then Werner Herzog will make a film about you and most people will wonder what on earth you were doing trying to live amongst things that will kill and eat you.
Montana advances
, and I feel a twinge of disappointment in Lobo.
#7 Clemson Tigers vs. #10 Missouri Tigers
Oh
come on
. Last year's bracket had an overabundance of tigers (Memphis and LSU in addition to the two in this matchup), so I guess it's nice that at least one tiger is going down in the first round. Neither specifies a kind of tiger, so the only way I can make this decision is to default to the fact that Missouri actually has a tiger in their team logo (as opposed to just evidence that a tiger has stopped by) and they've got a mascot named Truman. Good enough for me.
Missouri advances
.
#2 West Virginia Mountaineers vs. #15 Morgan State Grizzlies

It's hard to beat a bear in the mascot tournament, but what on earth is the Morgan State Grizzly doing? Other bears in this tournament had the decency to be menacing, but what is that pose? It's like he was just happened upon by the paparazzi. As far as the matchup goes, it's marginally relevant that I grew up in a semi-rural area of western Pennsylvania. I was not in Appalachia, but I have been through Appalachia and anyone who qualifies as a mountaineer is not only going to have their living quarters littered with bear pelts, they're going to be capable of taking down a bear with the sheer power of their facial hair. Which is fine with me in terms of the mascot bracket. I'm still terrified of them.
West Virginia advances