I'm still recovering from the marathon that was that last post (looking back on it, I probably should have split it up, and that would have taken away the necessity for me to write a post right now) but am also about to collapse from exhaustion in the wake of our final regular season floor hockey game. Still, my commitment shall not wane and you shall get your recap.
Week Five of the Floor Hockey season, and with byes on weeks one and four, this was the third game for Team Rich Ahn. And, as luck would have it a rematch against the team that humiliated us 6-1 in the first week.
But we've grown since then. Gotten stronger. Better. We've learned how to play and have been practicing. We're ready. Surely, this will be a rematch of the ages.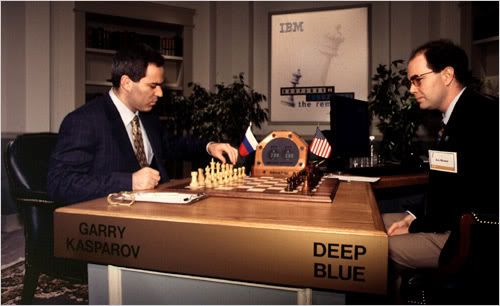 "Deep Blue" would have been a much better team name than "Team Rich Ahn". Just saying.
First period started pretty smoothly, and we seemed to be much more evenly matched than during our first matchup. Unfortunately, they're actually better at moving around than we are, and put up a goal about halfway through the first. Sad times. It looked to be on the way to another blowout.
And then, from downtown, Ben comes up huge to tie it. We survive the rest of the first.
More or less as soon as the second period started, though, we gave up two straight to put us down 3-1, then another where it sure
seemed
as though their forward knocked it out of the goalie's glove, or at the very least, entered the crease to put them up 4-1.

Just replace Hasek with Erin and Hull with "Some Guy I Don't Know".
We'd end the period 4-1 after Stephen's attempt to tie things up got denied on a play that will remain forever shrouded in controversy, as the puck seemed to cross the goal-line, but then was suddenly ejected in a smooth, sweeping motion that also knocked the goal out of position, forcing a faceoff.

You won't believe this, but there's apparently no co-ed intramural War Room. What a joke.
Starting down by three goals is no way to go into a third period. Sadly, that was followed by a garbage goal from their forward who's been giving us grief all day. 5-1.

For some reason, it hadn't occured to me that the first few images of a GIS of "garbage" would be Shirley Manson.
Shortly thereafter, Ben gets a bit tired and calls for me to sub in.
What can I say, lucky bounce, and an open shot. 5-2.
Everything's looking up. Unfortunately, that same forward finds another shot that bounces off the post. 6-2.
Things are grim. Stephen, who's been rocketing it down the court all day, sort of gives one of the better players on their team a bloody nose by lifting the puck into his face. Words are exchanged. Their defensemen start calling foul, and that we shouldn't be hitting the puck at them that hard.
Here's a tip. Don't want to have a puck hit at you with all of Stephen's might? Don't play hockey.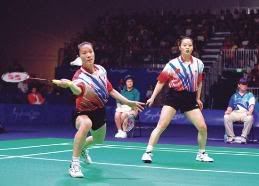 Intramural Badminton starts in a few weeks. Maybe that's more your speed.
No sweat. Stephen gets down the court, behind the goal and flips it to center. I'm going to brag about this one, because it looked like we practiced it. I notch my second goal of the game. If there were spectators, they'd be cheering.
Time's winding down, and with one last chance on a breakaway, Stephen scores again. The refs disallow it, saying that time had expired. Bill Belichick has no comment.
Final Score: 6-3. Better than 6-1, considering that they disallowed two of Stephen's goals, and we did it with fewer subs, more court time per player and without the support of George F. Will.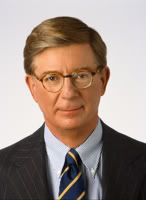 We're not conservative politics or baseball, and so this guy couldn't care less.
I'm happy with how we played, and I think we've got a good shot at not being immediately eliminated in the next round. The team we played this week was seriously just in much better shape than we were, and without making excuses and all joking aside, they're solid kids. Check back in here for all your Team Rich Ahn Floor Hockey coverage.