The shame about having a season that's only three games long and followed immediately by a single-elimination post-season is that it doesn't offer you very much opportunity to improve if you're, say, a bunch of chemists and biologists who don't spend much of their off-season practicing floor hockey. The positive side, however, is that everything's that much more intense and desperate and it tends to raise the level of competition.
Going into this week, we knew it was going to be rough. We were going up against Mat Sci Boron, one of the several materials science teams in the league. Evidently, while we're desperately searching for free pizza and a way to get our syntheses and kinetic studies to work, they're doing science with materials (I guess. I'm not really sure what happens in Mat Sci departments) and training around the clock. They said that this is the thing their department does together, and I'd tend to believe them, because they've been destroying their competition all year. So that's fun.
We went into the game having decided that we were going to have fun with it and try to play as hard as we could in hopes of taking down the behemoth. Then, they showed up.
I'll have to break here to explain something. If you've ever played intramural sports, you probably know that not everyone shows up to every game, and that's fine. Because we're all students, we all attempt to have social lives and we've all got more important things to worry about than intramural floor hockey (I know, blasphemy.) So we usually have one or two male subs and at best one or two female subs. The result is that in a hard fought game, we're going to get a bit slower by the end. So we show up with about eight or nine people and we're ready to go.
They showed up with seventeen. If we're going to win this one, we're going to do it against the numbers.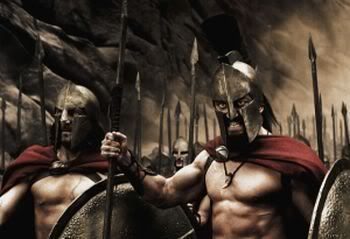 Unfortunately, Leonidas is out with a knee injury. And the ref kept getting confused when I referred to the neutral zone as "Thermopylae".
Challenge number one immediately becomes "how are you going to keep up with them if they're able to make a line change every two minutes"? No worries, though. We've played larger teams before and have held up pretty well. And maybe they'll treat it as a gimme and we'll be able to keep up because they won't be playing that hard.
No such luck. Mat Sci Boron came to play. From the drop of the puck, they were on us, fighting for every puck, blocking well and defending like madmen. They end up with a cheap goal. Sad times. A lot of teams, knowing they're going to be outmatched by the stamina of the other and already down 1-0 in the early first would give up.
Most teams aren't Team Rich Ahn.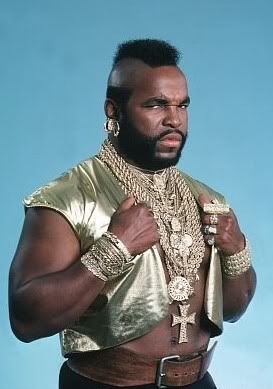 Team Rich Ahn's biggest fan approves.
We start digging in corners. We push back. We fight for it and before they know what's hit them, Steven knocks it home. 1-1.


Joaquin Phoenix is informed of the goal.
The rest of the period is hard fought, but we don't get any more chances. I should say now, however that Erin was playing out of her mind in goal. I don't have a joke about that, except to say that she deserves credit for keeping us in this.

Seriously.
A 1-1 tie is, for us, a huge victory considering that we started playing a month ago and haven't seen a team this physical yet. We're feeling pretty good.
Then the second started. We started to feel the fatigue of playing the entire time, and let up a goal.
We resolve to get it back, and come out guns firing. Especially Steven, who rockets it down the court. Unfortunately, right into a delicate part of the anatomy of one of their forwards. He doubles over, stumbles off the court, then heads off to the locker room. Terrible, awful terrible thing to witness. I thought about making and "America's Funniest Home Videos" joke, but you know what? No. That's just not cool.
Must. Not. Make. Joke.
Damn it, fine
.

The autoclave's not the only thing around here that makes things sterile.
Are you happy now? I hope so. Seriously, though, there's not much scarier that is going to happen in Co-Rec league floor hockey, and I really hope that the guy that was injured is ok. If by any absurd turn of events, you're reading this, guy-who-was-owning-us, get well soon with that. It looked rough, even though I didn't really see what happened until he was trying to get off of the court. And yes, it was absolutely nothing other than wrong place, wrong time.
They respond by putting up a few more goals on us (I can't recall the method of scoring was after the first, because I was sort of passing out from the running.) Second period ends at 4-1.
By the third period, we're mostly devastated, and give up another quick goal. Rich decides he's had enough and, in true Team Rich Ahn fashion, loses his mind. He fights off two defenders to get the puck down near their net, but they're just too solid at defense. I lose it and fight for a good while for the puck, but again, no opening. It's not until Ben gets into the mix that something happens.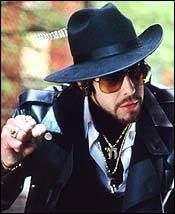 Hebrew Hammerin' it home. 5-2
It looks like we might try a comeback, but we're just too worn down. It ends 7-2, but I have a feeling that if we would have played like that in any of our regular season games, we would have done much, much better. Mat Sci Boron was impressive, played a really solid game and I'll not be surprised if they make it to the finals.
We'll forget to get in shape again for next season, probably, but it was good knowing that we actually played a pretty solid game against a team that's probably going to be in the finals.
No shirts this year. We'll be back.