#1 Kansas Jayhawks vs. #8 UNLV Runnin' Rebels
The UNLV Rebel has pretty much everyone beat in the Mascot Facial Hair category, which is just one of the many metrics on which I'm basing all of these careful decisions. If your mascot is Sam Elliott with an awesome hat, you get some points toward victory. The Jayhawks, on the other hand, have no facial hair to speak of. This is probably because they are birds. And mythical. And not Sam Elliott. Which is a shame. The Rebel looks as though he's got at least one gun and even has a feather in his hat. This is a man who has killed birds before.
UNLV advances
.
#5 Vanderbilt Commodores vs. #13 Morehead State Eagles
So, country rock or funk, then. Or, a fight between Don Henley and Lionel Ritchie. Notably, the Commodores weren't responsible for
Witchy Woman
, which sends me into a rage. I'm not sure why. I think that it was one of those songs that played on the generic non-offensive radio in places I worked growing up. Maybe it's the falsetto. I'm not sure. Plus,
Brick House
. If we're going with the frontman's solo career, I can't think of a Don Henley solo song other than "The Boys of Summer", whereas Ritchie's got "Hello", "All Night Long" and "Endless Love", and where would overwrought wedding dances be without that. Of course, the video for Hello sort of creeps me out (there's a definite power imbalance going on between Ritchie and the student who makes a bust of him), but I just honestly can't give this to the Eagles.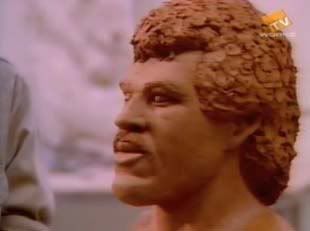 Have fun with the nightmares about the unstoppable Ritchie Golem.
Vanderbilt advances
.
#11 VCU Rams vs. #3 Purdue Boilermakers
The Rams are making a legitimately impressive run in the actual tournament, but that nonsense doesn't matter in the Murphspot mascot bracket. All that matters is whether a ram, which as far as I can tell hangs around and eats plants, is going to be able to destroy a train, which as far as I can tell is a hulking steel machine whose job it is to not be stopped by livestock. It's even got a little metal bit on the front whose sole purpose is to push everything the hell out of the way. I'm imagining that isn't a gentle process. I can't even make this about 70's music, though I guess I could bring Ram Jam into it, but other than "Black Betty", they're not helping at all.
Purdue advances
.
#10 Florida State Seminoles vs. #2 Notre Dame Fighting Irish
And we're back with another Ethnic Group Matchup, which makes my squishy liberal body feel tense and afraid. Rather than outright declaring one group better than the other, I'll simply note the difference in weaponry. The Seminoles definitely have a spear, but it's not evident whether the Fighting Irish have more than their fists and a jauntily cocked hat. Yes, the boxing stance from 1920 is impressive, but it does have a glaring weakness in terms of leaving the boxer unable to defend against a damn spear to the face.
Florida State advances
.