#16 UTSA Roadrunners vs. #1 Ohio State Buckeyes

These mascot brackets would have a better chance at not being irredeemably wrong every time if Ohio State had the decency to be bad every once in a while. Yeah,
Aesculus Glabra
has poisonous fruit and anything called a "fetid buckeye" is enough to make me question the wisdom of going straight after it, but cartoons have led me to believe that roadrunners generally know what's up and wouldn't rush in to eat the thing.
Besides, if your entire method for killing your opponent is "hope it eats me", you're not doing so well. Sorry Ohio State,
UTSA advances
.
#9 Villanova Wildcats vs. #8 George Mason Patriots

I've discussed at length how overrated Wildcats are in terms of mascot ferocity in previous years, and I'd like to get over it (partly, of course, I'd like to see Northwestern do well in the event they ever make the tournament), but it's honestly kind of a high hurdle to clear. Wildcats (
F. Silvestris
) are
barely
different than housecats. And housecats are pushovers. The most I've seen Boris attack successfully was a shoestring.
Which Patriots we're referring to here aren't well defined, but just because it's fun to make this as lopsided as possible, let's presume we've got the following matchup. European Wildcat vs. MIM-104 Patriot.
VS.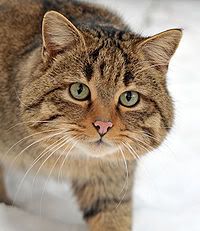 You could say that cats don't fly, so using a surface-to-air missle isn't going to be effective, but by the time you did that, I'd have moved on to the next matchup.
George Mason advances.#5 West Virginia Mountaineers vs. #12 UAB Blazers

West Virginia gets a bad deal in the public relations department, honestly. I've known several people from West Virginia and went there often as a kid and have very little negative to say about the experience. They're potentially fellow Pirates fans, so I can't slam them too much, which is why I'm not going to make a crack about West Virginians being unfamiliar with what a blazer is. Mountaineers, I guess, would be denizens of the Appalachian Mountains (which I'm a fan of, in my limited experience of "occasionaly driving through them), but that doesn't help the fact that Blaze is still a freaking dragon, and he's going to be hard to bring down.
Maybe they'll eventually run into some knights or something. For the time being,
UAB advances
.
#4 Kentucky Wildcats vs. #13 Princeton Tigers

As far as matchups go, there's not much to say when one mascot is a larger, more deadly version of the other mascot. I'm going to go ahead and admit that I'm not as familiar with Ivy League mascots as I should be (I guess?). Dartmouth's apparently got an unofficial mascot called "Keggy the Keg", which is refreshing and whimsical. But all I've got to go on is the matchup I'm presented with, and it's barely a fight.
Princeton advances
.