#1 Kansas Jayhawks vs. #16 Boston University Terriers

"A mythical cross between a blue jay and a sparrow hawk." Really? It seems like we're getting a little loose with what we're granting mythic status. "Oh, you know. Mythical. Like the Norse pantheon. Or King Arthur. Or the Jayhawks." It just seems like "fictional" works just as well there. Terriers, on the other hand, exist. But they're kind of difficult to get excited about in an imagined fight to the death. I know they've got a Boston Terrier pictured, but I can't keep myself from thinking that it's actually Eddie from Frasier that's going to be headed into battle here. Oddly, I think the edge goes to the Jayhawk. Maybe it can borrow Mjolnir for the fight.
#8 UNLV Runnin' Rebels vs. #9 Illinois Fighting Illini

Hey everyone! It's the politically uncomfortable mascot matchup! Actually, it turns out the Rebel thing comes from when UNLV emerged from the shadow of University of Nevada - Reno, which makes the whole thing seem a bit administrative. The Illini have been surrounded by controversy over their team name and mascot, and I'm not sure how to put the fact that they retired Chief Illiniwek in 2007 into the mascot bracket, leaving them with no actual mascot. I guess it defaults to UNLV.
UNLV advances#5 Vanderbilt Commodores vs. #12 Richmond Spiders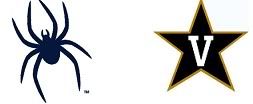 I guess if this were some sort of spider vs. small, gullible animal that would let a spider bite it matchup, there'd be some actual kind of battle here. Commodores, as far as I know, have both shoes and can potentially access a newspaper, so the Spider isn't going to stand much of a chance. Even if it's radioactive.
Vanderbilt advances
.
#4 Louisville Cardinals vs. #13 Morehead State Eagles

Cardinals, so far as I know, aren't particularly agressive birds. I don't think they can be what with the bright colors and poofy head feather thing. which I believe is a scientific term. The most disturbing thing about the Louisville Cardinal is that he has teeth. Which is every nightmare I'm going to have from here on out. Eagles are birds of prey, as opposed to toothy abominations, so I'm going with the mascot that doesn't make me weep uncontrollably.
Morehead State advances