#16 East Tennessee State Buccaneers vs. #13 Portland State Vikings
Again, the Mascot Bracket arrives on an interesting hypothetical. Which style of naval warfare will prevail? I know I've been big on Vikings in this bracket, and even moreso on Portland State given the fact that they seem to employ Boba Fett. However, the Buccaneers have the advantage of advanced weaponry, as well as Johnny Depp. Granted, they've also got to put up with Orlando Bloom.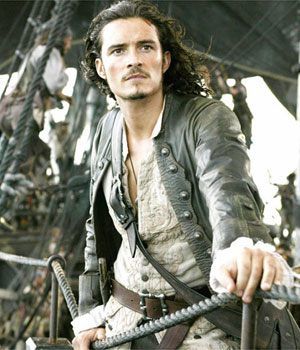 Still a douche.
I think they'll overcome that, though, and triumph over the Vikings.
East Tennessee State
makes the Elite Eight.
#6 UCLA Bruins vs. #2 Duke Blue Devils
I've been running along pretty strong with the concept that an elite French military unit is going to be able to hold it's own, but I think I've been missing the true point of the mascot bracket by not looking into the big, plastic-y eyes of the Duke Blue Devil.

Look upon my jowls, ye mighty, and despair.
Seriously, what the hell is that? I've been defending Penn Jillette in a mask? Even if I allow that, what's with the goalie gloves? No. This shall not continue. That guy would get eaten by a bear.
UCLA
advances.
#16 Radford Highlanders vs. #12 Western Kentucky Hilltoppers
This one's kind of painful, as it pits the lead singer of a band whose entire catalog is about Tolkein and leather harnesses against Big Red, who I imagine reigns over Muppets like some kind of benevolent dictator. Unfortunately for Big Red, the Highlander's sword is a bit too menacing, his boots a bit too "burlap sack tied with rope" for any outcome in which Western Kentucky would move on.
Radford
wins.
#14 Stephen F. Austin Lumberjacks vs. #15 Morgan State Bears
Close call. Both spend their life in the forest. Bears are vicious and, if Timothy Treadwell has taught us anything, can totally eat you. Lumberjacks are big and tough and know their way around a chainsaw. I think the Lumberjacks probably win because they've likely got a better range, even if they do have to rely on weapons rather than brute strength. Plus, I don't often see bears competing to see who can stay on a rolling log in water (birling!) and therefore
Stephen F. Austin
moves on.