So, I use MLB.tv. For those of you not familiar, it's the only way I'm aware of to watch baseball games out of market, and since I no longer live in the market of the team I follow, it's good times. Except that it occasionally just inverts the picture for no apparent reason, and that I live in the market of another team in the Bucs' division, so I'm blacked out whenever they play the Cubs.
What they do, essentially, is simply hook you into a feed of someone who's actually broadcasting it. In the Pirates case, this occasionally means I get the FSN Pittsburgh feed, but as we're terrible, and as FSN doesn't broadcast all of their games, it's often the oppositions video feed. While you can choose who you want to listen to on their radio version of the same service, that option is not available on the video. Sad times. But none of that is really important. What is important is that MLB.tv isn't actually affiliated with anyone broadcasting the games, and so they're not going to play the commercials. Instead, they shove a screensaver up. Which is fine. The first week, they used the relatively tame "mlb.tv logo bouncing around everywhere like we're playing Break-Out, but nothing ever breaks" theme. That was ok, except that they played the Break-Out sound effects, so lots of boops and beeps. Irritating. They moved to the same visual with "generic ballpark noise", then a static image of the MLB.tv logo with the same generic ballpark noise. So try to imagine what was going through my mind when I hear the same generic noise, click over to the video feed, and see
this
.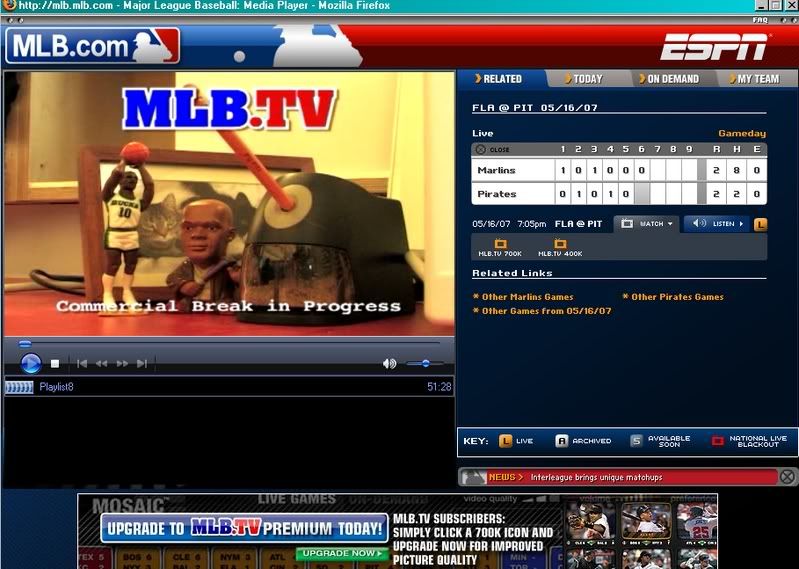 What Mace Windu, someone from the Bucks, a cat and a pencil sharpener have to do with baseball I have no idea. Disturbingly, the image isn't quite still, and the pencil sort of vibrates in the sharpener. It's very odd and I think I need to go somewhere far away from it for a while.